As a kid, I had a deep obsession with Fruit Gushers. You know, the tasty fruit snack with the liquid middle that was bursting with juicy goodness? My favorite flavor being Rockin Blue Raspberry, I would save up my weekly allowance and buy as many boxes as my $10 would allow. I'd rush home to eat every last pouch until my tongue turned dark blue in color, and then I'd sit in anticipation until I could do it all over again the following week.

I don't quite remember the turning point in which I lost interest in my weekly ritual. It just sort of... stopped. I have a feeling however that my change in heart over those delightfully sweet treats had something to do with a sudden interest in shopping once my teenage years crept in. The life of a kid… predictable bliss.

I was recently taken back to my childhood days of snacking on those liquid filled morsels when I had the opportunity to sample nutrilux vitamin bubbles for the first time. The package arrived in the mail and upon opening it, I found two thin and clear, plastic tubes; each filled with ten marble shapped bubbles. I skimmed through the booklet of information that accompanied my vitamins as I popped one into my mouth. Flashback to my 11 year old self, that bubble was bursting with the same fruity flavor and edible gummy-like casing I remember so fondly from my childhood companion. I resisted the urge to eat all 20 vitamins right then and there.





After a little bit of additional research, I discovered that nutrilux offers an array of vitamins, each with a different flavor and serving a different purpose…

Drive: for energy and recovery in a raspberry mint flavor

Balance: a woman's multi-vitamin in mandarin

Fight: to help balance immunity in a lemon citrus flavor

Glow: for skin, hair and nails in acai blueberry

Core: a men's multi-vitamin in ripened grape

I had the pleasure of sampling the nutrilux glow vitamins, of which I was lucky enough to snag 20 little bubbles. The suggested usage on the packaging says to pop 3 bubbles daily, but I decided to make them last and give it a go at just one per day. For the last 18 days, I've diligently taken my morning vitamin.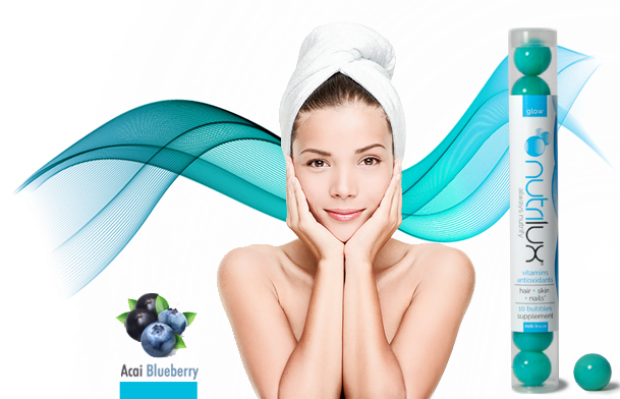 In going through the information packet that came along with the samples, the information listed indicated it can take upwards of two months to begin noticing results [with varying results per individual of course]. I'll be honest, it always irks me just a little bit when I'm asked to review a product but am only sent a sample size that will get me through a few days on an item that can takes weeks and even months to take effect. How can companies expect an honest review without allowing the proper time for their product to work its magic?

Regardless, I went about what I'd set out to do and took a vitamin per day. And lucky for both myself and nutrilux, I have an honest review to give. In just 18 days of taking one bubble per day, I can already feel and see a difference in the complexion of my skin [which is prone to breakouts]. I can't say I've noticed much of a difference in the strength and health of my hair quite yet, but the real treat has been the difference in my nail growth. I've always taken good care of my nails, so they started out healthy. In 18 days however, my nails feel noticeably stronger and are growing at a much faster pace than I'm used to. Who doesn't love and want naturally long and sturdy fingernails? I have to give nutrilux a thumbs up so far….

What makes these vitamins any better than traditional forms? The patent-pending, bursting bubble technology allows nutrients to be absorbed 60-70% more effectively than your run of the mill vitamins. The delightful taste… a bonus!

Some examples:

Pill vitamins are often hard to swallow and require a glass of water.

Capsule vitamins cost more and have a shorter shelf life.

Softgel vitamins are typically large and difficult to swallow.

Chewable vitamins are filled with GMO's and toxic additives.

Liquid vitamins are not portable and require refrigeration.

Powder vitamins are time-insensitive and messy.

Long story short, these vitamins are better for a multitude of reasons, but if you aren't sold quite yet, maybe this will seal the deal. Most pills and capsules have chemical binders that cause vitamins to pass straight through the digestive tract. With nutrilux, not only is your body actually absorbing more of the nutrients at a faster pace for the optimal level of benefit, all nutrilux products are 100% American-made and the packaging is 100% made from recyclable materials.




It's no secret that popping pills can become a daunting task, not to mention a forgettable task. I can say with honesty, that I actually look forward to taking my glow vitamin every morning and am already buying more to ensure I don't run out! Don't take my word for it…. buy the product, take the vitamins and you be the judge!

To learn more about nutrilux products visit www.nutrilux.com

Sophia Sanchez
Director of Digital Operations & Editor

*Image rights belonging to www.nutrilux.com. Halfstack was not compensated in any way for product review. Opinion is solely based on that of the reviewer.**