Album
album review
John Hanifin Band: Debut Album "Set Aside"
Wednesday, March 26, 2014
Sophie Magdalena
Your day is off to a terrible start. The hot water seems to have run out mid shower; full lather. The cat had an "accident" inside your favorite shoes. You can't seem to find your car keys even though you swear you left them on the counter the night before. And now.... your neighbor, Chatty Cathy, has held you up for 15 minutes as she explains [very slowly] how your rose bushes need pruning and the lawn needs trimming...



"..... It's an eye sore and I don't want to but I'll make the call to the association...."
You tune her out as thoughts swarm your already aching head of how you'll explain being late to your boss. You escape her rants unscathed and take a deep breath as you climb into your car. You sit for a moment, contemplating running back inside to hide under the covers until this wretched day passes. You can hear music softly playing through the speakers and you turn the volume up slightly. Peace begins to fill your very soul as the melodic reverberations of your favorite album resonate throughout your commute. Music has a way of turning around even the worst of days..
A common ground that ties us all together, music is a safe haven; a place we can all go to retreat after a hard day, when life has pained us or even to celebrate a memorable occurrence. Within our favorite songs lie our most unforgettable memories....
John Hanifin can certainly relate. A Cellist from Boston, music has always been his sanctuary. The front man of indie band, John Hanifin Band, for John, music is not only a passion, but a way of life.... A passion most evident with the release of the bands debut album "Set Aside."
The music, described by one fan as "a representation of the human experience," is the kind of music that evokes feelings of relaxation and elation, a perfect means to unwind. The album, 11 tracks long, is pervaded with sounds of Jazz, Rock and Pop fused seamlessly with hints of Classical, Folk and Hip Hop. Song after song, the 5 Bostonians that make up the band, have succeeded in flawlessly mixing each style to create a new wave of music unlike anything you've ever heard.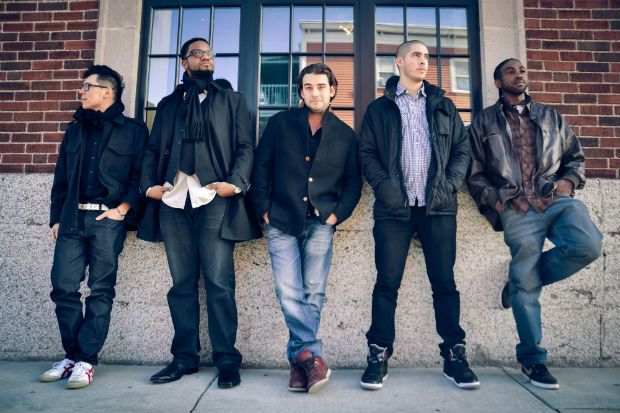 Louis Ochoa, Brandon H. Allen, John Hanifin, Corey Sanchez, Trevor Pitts
Photo rights belonging to Valerie Anselme
John's smooth and mellifluous voice, along with the swanky sounds of his cello lace perfectly with the inflections of the keys, drums, guitar and bass playing in the background, producing a unique, fresh and theatrical sound you'll love.
My personal favorite being
"Stop Drop & Roll"
conjoins the styles of Jazz and Rock with just a hint of Hip Hop in a track that has been on repeat for a week straight. And if you're game for a little Classical and Folk infused in your Pop music, check out
"Brooklyn Bridge."
The gentlemen of John Hanifin Band are just 5 guys with a shared love and ardor for music. With high aspirations of forever changing the music industry, you'll fall in love with a sound that transcends all of the boundaries of music. Relax..... and take in the sounds of John Hanifin Band.... You'll soon catch your foot tapping along to the rhythm.
John Hanifin, Trevor Pitts, Brandon H. Allen, Corey Sanchez, Louis Ochoa
Photo rights belonging to Valerie Anselme
To learn more about the dashing men of John Hanifin Band, check them out online at www.johnhanifinband.com.
To catch behind-the-scenes practice sessions, live performances, and more follow the band on Instagram at
@johnhanifinband
and at @johnrhanifin.
The Band
Corey Sanchez - Guitar/Vocals
Sophia Sanchez
Director of Digital Content & Editor